Zimbabwe's main opposition party has demanded fresh elections supervised by neighbouring countries.
It has rejected last week's polls that saw President Emmerson Mnangagwa win re-election and his long-ruling ZANU-PF party retain its majority in a vote criticised by international observers.
Gift Siziba, the deputy spokesman for the Citizens Coalition for Change party, told reporters at a news conference in the capital, Harare, that the party will "not settle for less".
"There is no alternative to a fresh and proper election … as an exit out of the vicious cycle of disputed elections," Mr Siziba said. "We are calling upon our African brothers to help facilitate, mediate and guarantee a process that will lead to our return to legitimacy."
Mr Siziba declined to say whether the CCC has told the Southern African Development Community (SADC) and the African Union, the regional bodies which sent observers to Zimbabwe, of its demand.
President Cyril Ramaphosa of neighbouring South Africa has already congratulated Mr Mnangagwa's government on the elections, as has Namibian leader Hage Geingob.
Mr Ramaphosa had "taken note" of the reports by the election observers, his office said.
Although SADC's observer mission criticised the elections, the body does not have a history of interfering to force a rerun.
CCC leader Nelson Chamisa described the presidential election result as a "blatant and gigantic fraud" on Sunday, a day after the electoral commission announced Mr Mnangagwa — a former guerrilla fighter nicknamed "the crocodile" — had won a second five-year term with 52.6% of the vote. Mr Chamisa won 44%, according to the commission.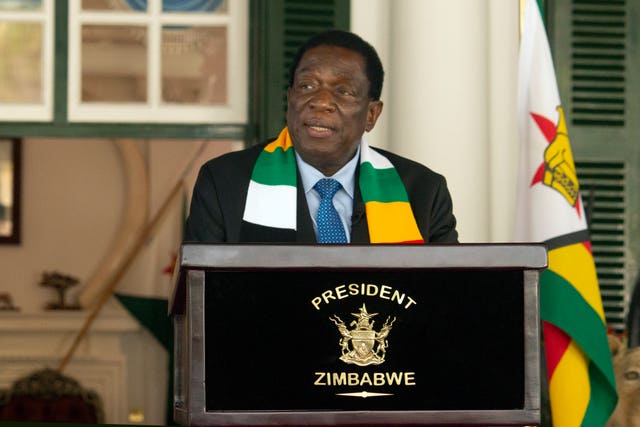 Going to court would mark a repeat of 2018, when Mr Chamisa launched a legal challenge after narrowly losing to Mr Mnangagwa in the first election since the ouster of longtime leader Robert Mugabe in a coup a year earlier. The Constitutional Court rejected Mr Chamisa's challenge.
The results from the latest disputed vote in the southern African nation with a history of troubled elections were announced on Saturday night, two days earlier than expected.
People in the country of 15 million were bound to view the results with suspicion, but Mr Mnangagwa, 80, dismissed the opposition's allegations of vote fraud.
International rights groups Human Rights Watch and Amnesty International said there had been a crackdown on opposition in the buildup to the election.
They accused Mr Mnangagwa's administration and the ruling party of weaponising the police and courts to arrest opposition figures, ban and break up opposition party rallies, and intimidate its supporters.
More than 40 local election monitors were arrested during the election on what government critics said were trumped up charges.
Mr Chamisa alleged in an interview with The Associated Press ahead of the vote that his supporters had often been threatened with violence.
The actual election last Wednesday was also problematic and voting was extended into Thursday because of a shortage of ballot papers, especially in the capital and other urban areas that are opposition strongholds. People slept at polling stations to make sure they were able to vote.
Mr Mnangagwa's officials have angrily reacted to reports by African and Western observer missions that said the polls failed to meet international standards for democracy.
The European Union and Carter Centere also described an atmosphere of intimidation and raised concerns about the possible disenfranchisement of some voters.
In response, Mr Mnangagwa said some of the observers had gone "beyond their limit" by questioning laws passed by Zimbabwe's parliament in the buildup to the election.