From 4h ago
Zelenskiy calls for the UN general assembly to be given power to overcome the veto power held by Russia, calling it a "necessary step". He says:
It is impossible to stop the war because all efforts are vetoed by the aggressor.
Proposing an overhaul of the UN's security council to broaden membership, he says Ukraine considers it "unjust" when billions of people do not have a permanent representative in the security council, while Russia does.
He says:
World leaders are seeking new platforms and alliances that could reduce the disastrous scope of problems, the problems that are met here within these walls with rhetoric rather than real solutions with aspirations to compromise with killers, rather than to protect lives.
The latest spate of natural disasters – from the floods in Libya, Greece and Spain to the wildfires in Hawaii and Canada – has further underscored the need for early warning systems to help the world cope with the realities of the climate emergency, Spain's environment minister has said.
Speaking to the Guardian as she prepared to travel to New York to take part in the UN's climate ambition summit and sign a landmark treaty to protect the high seas, Teresa Ribera said the calamities laid bare the challenges the planet faced.
Ribera, who also serves as a deputy prime minister in Spain's socialist-led caretaker government, urged those attending the summit to heed the UN secretary general's calls for life-saving early warning systems to be put in place across the world over the next four years.
Given that 95% of the world's population has access to mobile broadband networks – and nearly 75% own a mobile phone – experts say that harnessing cellular networks to deliver early warnings of impending disasters has the potential to save lives and significantly reduce damage.
Volodymyr Zelenskiy laid out proposals for UN reform as part of his 10-point peace plan. He supported a suggestion, which has been championed by France in the past, that in case of "mass atrocities against human rights" the veto powers of the permanent members – Russia, the US, UK, China and France – should be voluntarily suspended.
Anticipating that Russia would not relinquish its privilege, Zelenskiy argued the UN general assembly should have the power to override a security council veto, with a two-thirds majority.
The president also threw his weight behind widespread and growing calls for the expansion of the security council to accommodate more permanent members, giving broader representation for Asia, a seat for the African Union, the Islamic world, and Germany.
Over the past year, the US has also expressed support for security council reform. It is an issue that drives a wedge between Russia, China and the global south, including fellow members of the Brics group: Brazil, South Africa and India. Moscow and Beijing have historically been opposed to any changes in the status quo that would affect their veto.
Addressing the UN security council in New York, Volodymyr Zelenskiy said the way to bring peace in Ukraine and to prevent further wars of aggression is through fundamental UN reform.
The Ukrainian president argued that the war had demonstrated the need to limit veto power, give the UN general assembly the power to override vetoes, and expand the council's permanent members beyond the current five powers, who acquired their privileged position in the wake of the second world war.
The fact that Russia – the aggressor state in Ukraine – also has a veto to prevent the security council doing anything to stop the war, made a nonsense of the UN, he said.
"All the UN actions, either by the security council or by the general assembly, that could have stopped this aggression are shattered by the privilege granted to the aggressor with this seat," Zelenskiy said.
We should recognise that the UN finds itself in a deadlock on the matters of aggression. Humankind no longer pins its hopes on the UN when it comes to the defence of the sovereign borders of nations.
In the current system, Zelenskiy said, the search for real solutions has been displaced by "aspirations to compromise with killers".
South Korean president Yoon Suk Yeol said that if Russia helps North Korea advance its weapons program in exchange for its assistance in Russia's war against Ukraine, then it would be a "direct provocation," Reuters reports.
In his address to the UN general assembly, Yoon said:
"It is paradoxical that a permanent member of the UN security council, entrusted as the ultimate guardian of world peace, would wage war by invading another sovereign nation and receive arms and ammunition from a regime that blatantly violates UN security council resolutions," he said.

"If [North Korea] acquires the information and technology necessary to enhance its WMD capabilities in exchange for supporting Russia with conventional weapons, the deal will be a direct provocation, threatening the peace and security of not only Ukraine, but also the Republic of Korea," Yoon continued, saying, "The Republic of Korea, together with its allies and partners will not stand idly by."
Yoon's address comes just days after North Korean leader Kim Jong Un's meeting with Russian president Vladimir Putin during which Putin vowed to boost military cooperation amongst the two countries.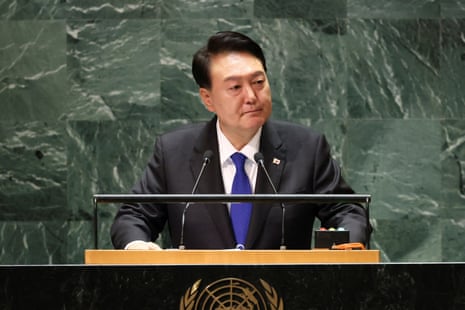 Kausea Natano, the prime minister of Tuvalu, another nation which has contributed negligibly to global heating but is now facing an existential threat due to sea level rise and extreme weather events, said:
"Coal, oil and gas are responsible for 86% of carbon dioxide emissions that are causing sea level rise and the hottest average temperature we have ever seen. Fossil fuels undermine all seventeen of the Sustainable Development Goals and that includes our targets on health, on poverty reduction, and our peace and security."
Worth noting that Britain, one of the world's worst polluters, colonized and extracted resources from Barbados and Tuvalu (formerly part of the Ellice Islands).
Today, the British prime minister Rishi Sunak chose to scrap or delay a bunch of green targets rather than attend the UN climate summit.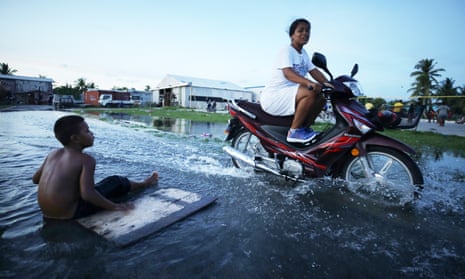 Leaders of some of the world's most climate vulnerable nations are connecting the dots between sustainable development, the climate emergency, and debt reduction – dots that most rich, polluting nations would rather not be connected.
Mia Mottley, prime minister of Barbados, said:
"We have a call for a debt cancellation for all low income countries because if they are going to meet the SDGs and if they are going to do what is necessary for climate ambition, they have to be put in a position so to do."

"It is painful to continue to see that you are asking us to increase borrowing to build resilient infrastructure for something that we did not do. And then at the same time, you want to also ensure that you have a loss and damage fund that does not have the adequate means for grant funding to be able to help countries rebuild. It is unconscionable, and it is almost a crime against humanity," added Mottley.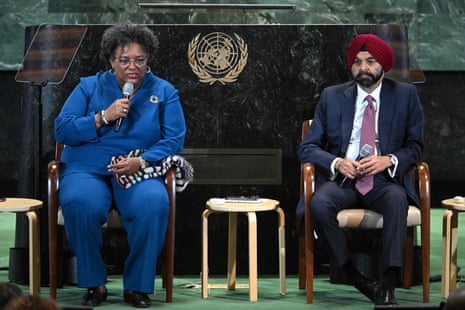 Here is video of the moment Ukrainian president Volodymyr Zelenskiy called on the UN security council to strip Russia of its veto power.
Zelenskiy said that Russia occupies its UN security council seat "illegally through backchannel manipulations following the collapse of the Soviet Union."
Iraq's prime minister Mohammed Shia Al-Sudani has invited NATO secretary general Jens Stoltenberg to visit Iraq based on his desire to do so, Reuters reports Iraq state media announcing on Wednesday.
The invitation from Sudani came during a sideline meeting between him and Stoltenberg during the UN General Assembly this week in New York.
Ma Zhaoxu says China has facilitated talks for peace "in its own way" and that Beijing has played a "positive and constructive role" in resolving the conflict in Ukraine.
He says the Ukraine "crisis" – he does not refer it as a "war" during his speech – has become what it is today "for a variety of deep and complex reasons".
A prolonged and expanded Ukraine crisis is in no one's interest in light of the current situation.
Ma says it is "important to stick to the general direction of political settlement", and calls to "avoid pouring oil over the fire".
The parties to the conflict should strictly observe international humanitarian law, follow the principles of necessity, distinction and proportionality, protect civilians and civil infrastructure and provide rapid safe and unimpeded humanitarian access in order to lessen the suffering of civilians.
China's vice foreign minister, Ma Zhaoxu, tells the security council meeting on Ukraine that Beijing believes that the "sovereignty and territorial integrity of all countries should be respected".
He says the "legitimate" security concerns of all countries should be "taken seriously" and that all efforts should be made in "resolving the crisis".
Ma points to the fact that China released its 12-point peace plan for Ukraine earlier this year, which called for dialogue, respect for all countries' territorial sovereignty, and an end to economic sanctions. It also urged all parties to avoid nuclear escalation but critically did not suggest Russia withdraw its forces. The proposals were welcomed by Russia's president, Vladimir Putin, at the time.
In one of the largest climate protests held since the onset of the Covid-19 pandemic, about 75,000 people marched through Manhattan on Sunday to call for an end to fossil fuels.
Protesters have targeted institutions that financially support the fossil fuel industry, with activists picketing the Bank of America and blocking access to the New York Federal Reserve.
The protesters "had a clear message for the Biden administration: stop sacrificing communities", according to Ebony Twilley Martin, executive director of Greenpeace USA.
Overwhelmingly Americans don't want this. We deserve a planet free from pollution and the devastating impacts it causes. Stop approving fossil fuel projects that hurt communities like mine – at home and abroad.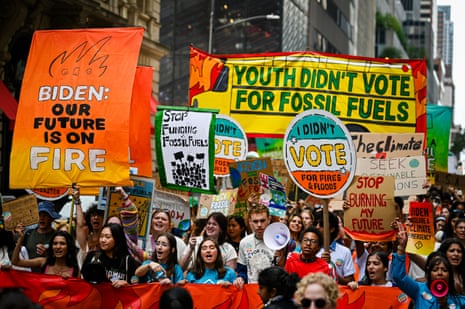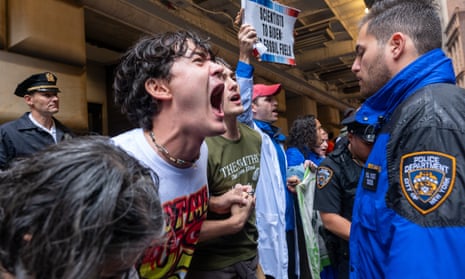 Britain's deputy prime minister Oliver Dowden, who recently spoke at the UN security council meeting, flew on a near-empty RAF plane to attend the general assembly in New York, the Guardian has learned.
Dowden travelled on a 158-seat RAF Voyager with only a few advisers and defence personnel, sources said. The aircraft is usually used to transport senior ministers with large delegations of officials, journalists and occasionally business executives.
Dowden flew to New York on Tuesday to attend parts of the UN summit, where tackling climate crisis has been a key theme.
It comes as the UK's prime minister, Rishi Sunak, gave a speech rowing back on some of the government's most significant climate policies.
It's worth remembering that California governor Gavin Newsom didn't always feel like this.
Rather he has been forced to shift his thinking on fossil fuels by the deepening climate emergency and the state's climate activists and organizers, according to Antonia Juhasz, senior fossil fuels researcher at Human Rights Watch.
The unlikely star of the UN summit so far has arguably been the California governor Gavin Newsom, whose state has been battered by wildfires, floods and extreme heat in the past 12 months and where two insurance companies have pulled out due to the growing risk and tighter rules on premium hikes.
Perhaps that's why Newsom decided to say it how it is:
The climate crisis is a fossil fuel crisis. It's not complicated; it's the burning of oil, gas, and coal, and we need to call that out. For decades the oil industry has been playing each and every one of us for fools.
His speech was widely applauded by climate advocates as "unprecedented" including Harjeet Singh, the director of global engagement for the Fossil Fuel Treaty initiative.