September 6, 2023 — 5.00am
September 6, 2023 — 5.00am
A world power like no other takes centre stage this week. For the first time India will host the G20 leaders' summit in the nation's capital, Delhi.
The high-profile gathering coincides with a slew of symbolic milestones for the world's most populous nation. India recently surpassed Britain as the world's fifth-largest economy and is on track to be third largest by the end of this decade.
Goldman Sachs, an investment bank, projects India's gross domestic product will surpass that of the United States by 2075. India made history last month when it became only the fourth country to achieve a "soft" landing on the moon – following the US, the Soviet Union and China.
Back in 2008 I arrived in a very different India to become the Delhi-based correspondent for The Sydney Morning Herald and The Age. Since then, the country's economy has almost tripled in size (when measured in US$) and there has been huge investments in infrastructure.
The length of India's road network has grown by about 25 per cent since 2014 and Indian Railways estimates it has built 14.3 kilometres of additional track each day for the past year. Bullet trains with speeds of 320 kilometres an hour will soon be added to the country's vast rail system.
India's digital revolution has been just as impressive. When I moved to Delhi a little over 15 years ago, the country had 230 million mobile phone subscribers; now there's 1.15 billion.
Ultra-cheap mobile data has underpinned sweeping changes in the financial system. India's home-grown "unified payments interface", or UPI, has allowed hundreds of millions to participate in the economy at low cost. The system currently processes more than 40 per cent of the world's real-time payments.
And yet, India's gross domestic product per person was just $US2388 ($3695) last year according to the World Bank – less than a fifth of China's and 4 per cent of Australia's. The latest United Nations Human Development Index, which ranks nations according to income, education and life expectancy, placed India at 132 out of 191 countries, 53 places below China.
India's huge population and fastest growing economy give it growing global clout. But it is a low-income superpower. And that unusual combination is reflected in the perspectives it has brought to the G20 presidency.
India has championed what Prime Minister Narendra Modi calls "our fellow travellers" in the global south – a term describing developing countries mostly (although not all) in the southern hemisphere, especially Africa, Asia and Latin America.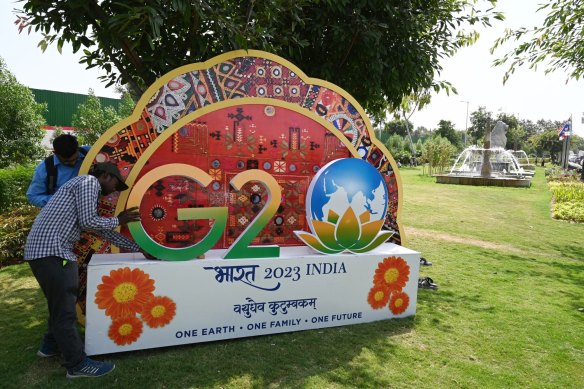 In January, India convened the Voice of the Global South Summit, attended by 125 countries, and promised to channel ideas from the meeting into the "deliberation and discourse of the G20". India has also used its G20 leadership to push for the African Union – a peak body representing 55 African nations – to become a full member of the group (the European Union is already part of the G20).
"India considers it a responsibility to bring the issues, expectations and aspirations of the global south to the attention of the world through the G20 platform," Modi said in June.
India has refocused the G20 agenda on achieving the UN's 2015 Sustainable Development Goals which aim to end global poverty by 2030. Modi has also urged the G20 to "undertake collective action" to improve global food security which has deteriorated in many poor countries due to the disruptions of COVID-19 and Russia's invasion of Ukraine.
India has even used G20 forums to push for greater acceptance of alternative medicines and health treatments, which are popular in India and other developing countries. This included yoga, Ayurveda, naturopathy and homoeopathy.
I returned to India last month as part of a delegation of journalists from G20 nations, hosted by the country's foreign ministry. The government's embrace of its G20 presidency was striking. Harsh Vardhan Shringla, India's G20 chief co-ordinator, describes it as "one of the most significant international events we have ever hosted".
G20 ministerial meetings held in the prelude to the Delhi summit have been widely covered by India's huge media industry and Modi, who faces re-election next year, has used the event to showcase India's achievements and international influence.
The event has taken on a uniquely Indian feel with cities and towns across the country festooned with billboards heralding the occasion. India has even adopted an ancient Sanskrit phrase, Vasudhaiva Kutumbakam, as this year's G20 theme which translates as "one earth, one family, one future".
"This is not just a slogan," said Modi when India took on the G20 presidency. "Today we have the means to produce enough to meet the basic needs of all people in the world."
Acute tensions between some G20 members, especially over the Ukraine war, threaten to undermine the progress India hopes to facilitate when leaders gather in Delhi. Both China's Xi Jinping and Russia's Vladimir Putin have pulled out of the meeting.
But India's moment of international leadership has shown it brings a distinctive perspective to global politics. And its influence is set to grow.
Matt Wade is a senior economics writer at The Sydney Morning Herald.
The Opinion newsletter is a weekly wrap of views that will challenge, champion and inform your own. Sign up here.