I get so many questions on what we're doing for high school and college that I wanted to share our plan. Although I know this plan isn't for everyone, it's working well for us and we hope to graduate our kids early and virtually debt free!
When I went to college, the path was pretty straight forward. You graduated high school, went to a 4-year university, accumulated a ton of student loans and debt, graduated, and hoped for a job that would pay off all of your debt. Things have changed drastically and now there are so many options out there for higher education.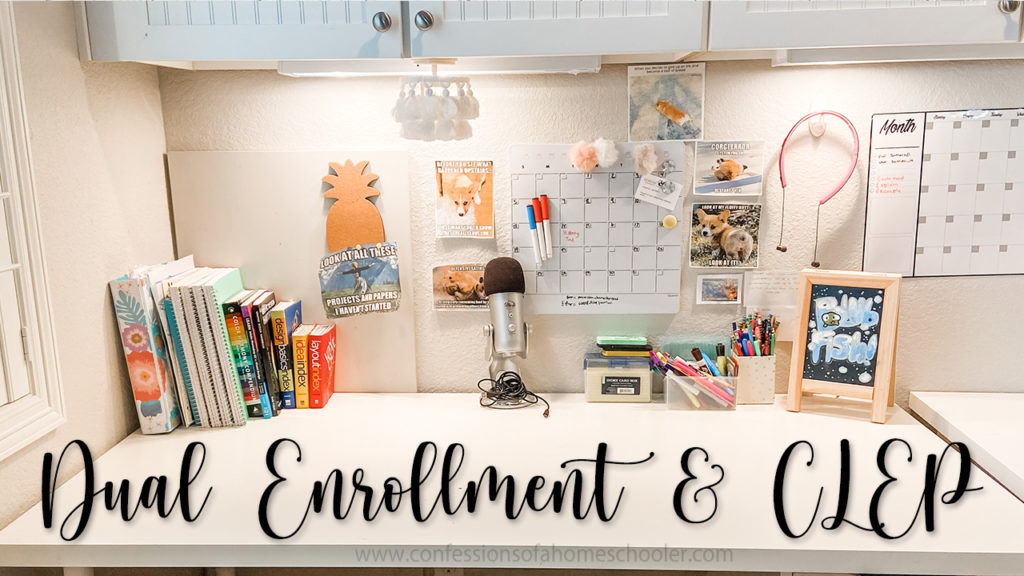 As a homeschooler, I was worried about college just like everyone else. But now that we're at this stage of life, I'm so happy to see that our options have increased. Gone are the days where you needed a 4-year degree to pursue your dreams. Depending on what your goals are, there are trade schools, online options, CLEP testing, community college, apprenticeships, military opportunities, and dual enrollment courses that can all work together to get your high schooler to where they want to go.
We are planning to take advantage of a variety of options and will hopefully come out on top, ahead of schedule, and almost debt free!
Before I get in to all of this, I do want to caution you against rushing your student into dual enrollment classes too early. Of course it's just my opinion, but throwing a younger student into college level classes before they are ready can cause a lot of stress, anxiety, and if they go in person, it can be difficult being the youngest in a class full of adults. Please take this advice as just that, and keep it in mind before rushing into the dual enrollment process. I know there are opportunities to start these classes earlier, but we really wanted our daughter to be comfortable taking these classes and so we waited for her senior year to start. I think it was the right decision for her, but of course your family might be different.
So what are we doing?
We've decided on a combination of CLEP testing, dual enrollment classes, online classes, and then will ultimately transfer into a university to complete her bachelor's degree. So let's talk about a few of the options that we are taking advantage of. She is also participating in 4H where she's already earned a few scholarships for her intended degree and of course we're saving for future courses as well.
CLEP TESTING
What is CLEP testing you ask? CLEP testing is a way to help students earn college credit for what they already know, for the fraction of the cost of a college class. Now I say "fraction" because it's definitely not free. There is a fee to take the test, and we also paid for a Study.com class to help prepare for the test as well. But considering the cost of a regular college class, it's definitely a less expensive way to go. Last summer our daughter took the English CLEP test and tested out of that subject earning 3 college credit hours. You can do CLEP tests for a number of subjects, and if your student is comfortable with that route, it can be a great resources. You can learn more about CLEP testing on their website.
After this year, we may try to have her CLEP out of math as well. She is currently taking Shormann Pre-Calculus which is a CLEP preparatory class. Math isn't typically her strong suit, but if she can test out that is one less class she'll have to take in the future.
DUAL ENROLLMENT
Depending on your state, community colleges often offer free dual enrollment courses to homeschool students. Through these courses kids can receive dual enrollment credits meaning they get high school and college credit for the course at the same time. It's a great way to take advantage of free credit hours, and speed up the college graduation process as well.
As of last semester, our senior completed 9 free credit hours her first semester, and she's currently taking 15 more credits her second semester. We didn't want to rush her into it, so we started her with less credits. But after doing so well, she's decided to take more this semester. That means she'll end her senior year with 24 college credits already under her belt. She also earned a small scholarship in one of her classes as well which took care of her book costs this year as well.
The combination of her 3 CLEP credits and her dual enrollment credits she will finish her senior year in high school with a total of 27 college credit hours. She is also considering doing one class this summer so she can finish with a full 30 hours.
In our state she can take another year of classes for free, so she'll do what's called a "5th year" consisting of all college classes. She plans to take another 30 credit hours next year. That means she'll finish high school with 60 college credit hours. From there she will most likely transfer into a university here as a junior and then finish out her two years there to complete her bachelor's degree. This path should save us about $60,000 in the end! Of course we know things can change, but that's our current plan.
ONLINE CLASSES
There are so many online college options now as well! Those classes do tend to be less expensive and a bit more flexible too. Right now her dual enrollment classes are all online, but depending on what she needs for the future we may look at other online options as well.
I just suggest contacting your prospective college or university and see what transfer credits they are willing to accept. Our state universities have all of that information on their website, so you can see what you need to take, and what credits will transfer over directly. That way you can make sure that the classes you are taking will count for the proper degree.
ALTERNATIVE OPTIONS
Of course these are just a few options that are working for us, but there are so many other as well. There are Apprenticeships, Career Colleges, like culinary, fashion, and art, Internships, Military opportunities, online colleges, and more. Just remember, there are a lot of options and education can be traditional or alternative depending on what your student is interested in.
I highly suggest sitting down with your high schooler, discussing what they're interested in, and then coming up with a game plan to get them started off on the right path to help them achieve their goals for the future, whatever that may be!
If you need more help check out my How to Homeschool High School eCourse!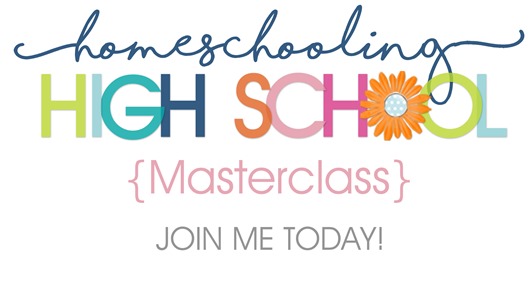 Are you a homeschooling parent who is considering leading your student (or students) through a study of Shakespeare? Maybe you're excited to get started, but you're also feeling nervous because he is, you know, Shakespeare: the father of Western poetry and drama, the guy whose plays are taught in every contemporary schoolroom. No pressure.
As someone who loves Shakespeare, studied his works in graduate school, and has tutored students in his plays and poetry, I'm going to make a guilty confession to you: I have totally "zoned out" while reading Shakespeare. I've done it more than once. As wonderful as his language is, it happens with antiquate language…unless you have a strategy. In today's post, I want to share 3 tips that I've discovered which have helped me stay focused on, and therefore find a lot of enjoyment in, Shakespeare's works. If you feel like you need a little guidance, or a little more focus, while getting started with "The Bard", I hope these tips help you out!
1. Grab Some Popcorn and Put on a Movie
Shakespeare's works, especially his plays, weren't really meant to be read silently. They were meant to be watched. The first thing you can do when reading/ teaching a Shakespeare play is to conjure up strong visuals to accompany your reading. Having a visual not only helps show us more clearly the meaning behind Shakespeare's language, it also shows us that the characters in these plays are not very different from ourselves. One of the reasons that Shakespeare is still so famous today is that his characters capture the full scope of human experiences: they address, from birth to death, all of the major emotions and conflicts that arise in a person's life. Thanks to the dozens of films which depict Shakespeare's works, almost anyone can experience these depictions in action. Take advantage of this and watch some movies.
I would especially suggest checking out film versions which leave as much of the original rhetoric intact as possible while portraying the tale within a modern or creative setting, such as: Joss Whedon's Much Ado About Nothing (2012), Baz Luhrmann's Romeo + Juliet (1996) and Kenneth Brannaugh's Hamlet (1996). I recommend this type of adaptation because it can act as inspiration for creating your own unique visual landscape. At the same time, you are getting to see how Shakespeare's original words were meant to be read, with the proper power, intonations, and emotions to channel them. So grab some popcorn and watch a movie!
2. Read for Themes
Create a connection with a Shakespearean through focusing on his themes, and then looking at how more specific passages support and discuss those themes. To start out with this approach, you will need to do a little secondary source research. Discover what "big questions and ideas" scholars have pondered over for the particular work you are reading and keep them in mind as you read. This can help you to focus on Shakespeare's wording and insight.
For instance, if you are reading A Midsummer Night's Dream, you might do a little reading on the theme of "the rashness of love." This play contains several examples of the unwieldiness of love and the crazy things it makes us do. With that theme already in mind, let's say you come across the following lines of the play from Act 5, Scene 1. "Lovers and madmen have such seething brains/Such shaping fantasies, that apprehend/ More than cool reason ever comprehends." Because you will realize that these lines speak directly about a crucial theme in the play, you can spend a little time on them to think about what Shakespeare is saying and how he is saying it Sometimes the proper context is all you need to be able to focus in on lines like this, which can seem crisply insightful and fresh, even centuries after they were written.
3. Consider the Sound
As you discover the universality of the characters and the themes, another thing you can do to create an interactive Shakespeare experience is to learn to appreciate the sound of his writing. Shakespeare was a master of iambic pentameter, a pattern that most of his writing follows.Iambic pentameter means a pattern of five "iambic feet," each containing an unstressed/stressed syllable which flows like "baBUM." Therefore, the beat of, "baBUMbaBUMbaBUMbaBUMbaBUM," is similar to the rhythm of most of Shakespeare's writing.
Once you've got a grasp on the pattern, read some of the lines you are studying aloud to yourself and see if you hear it in the flow of the words. Try this with your student. Can she tap the iambic beat of a line while reading it aloud? You might be surprised by how getting involved involved in the sound of the language can connect you to it in a new way.
Once you (and your student) are comfortable with reading in meter and hearing the beat of Shakespeare's words, you can really start to get "fancy," with your Shakespeare discussions by beginning to think about how meaning and sound come together. How? Look for places where the language breaks the pattern. For example, are there lines that, when read aloud, throw the beat off? Are they just a little too short, too long, or forcibly crammed together?
Considering Shakespeare as a master of both poetry and a playwrighting, ask yourself and your student why he might have decided to change the flow at that point. How does the music alter to the storytelling? Even today, Shakespeare sets the bar for the deliberate interaction between meter and meaning. In asking these kinds of questions about his text, you are not only exploring the study Shakespeare, but also the art of poetry itself.
Actor Craig Wallace said of performing Shakespeare: "It's not easy. When we get it and convey it, it's a beautiful thing for us and it's a beautiful thing for the audience to hear. And that's why Shakespeare endures."
Today, as readers and teachers of Shakespeare, we have a similar challenge, though the play we perform is mental. Getting past the language differences may be difficult, yet there is beauty in the discovery that Shakespeare's characters and stories are still relevant today. The music in his language and words also allows each generation to breathe new life into his work every time it is read. It's a valuable experience and a beautiful one to share through teaching.