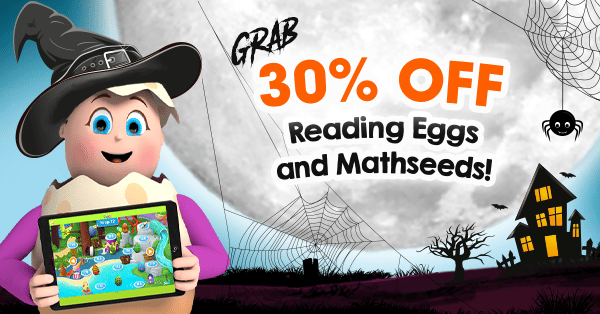 30% off Reading Eggs and Mathseeds!
Offer details:
👻 Spooky Savings! 👻
Grab a ghoulishly good bargain and SAVE 30% on 12 months of Reading Eggs AND Mathseeds. Hundreds of award-winning lessons, fun games, rewards, e-books, 500+ printable worksheets & loads more. Available on desktop, iOS, and Android. Exclusive offer ends soon!
If you have never tried Reading Eggs and Mathseeds, here is a thirty day free trial! If you have already tried it and love it, grab this deal 30% off Reading Eggs and Mathseeds!
Reading Eggs
Reading Eggs makes learning to read interesting and engaging for kids, with great online reading games and activities.
And it really works!
Children love the games, songs, golden eggs and other rewards which, along with feeling proud of their reading, really motivate children to keep exploring and learning.
Math Seeds
Mathseeds teaches kids aged 3-9 the core math and problem solving skills needed to be successful at school with fun, highly interactive and rewarding lessons.
Mathseeds combines highly structured lessons with fun motivational elements that keep children engaged and keen to learn.
Thank you for supporting Hip Homeschool Moms. Below are other deals you might be interested in. #affiliatelinks
Looking for more deal alerts? Check out our master list of deal alerts!