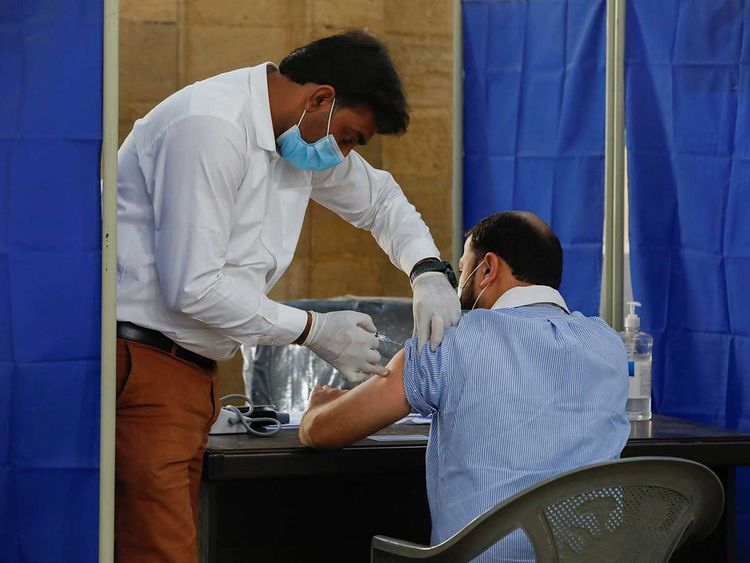 ISLAMABAD: The government approved on Tuesday a new set of coronavirus restrictions limiting venue access and air travel — both domestic and international — for unvaccinated people, as it tries out a range of policies to push reluctant people into receiving jabs.
A meeting of the National Command and Operation Centre held under the chairmanship of Minister of Planning and Development Asad Umar, who also heads the response to the health crisis, decided to deny access to incoming and outgoing travel to everyone without a Covid-19 vaccine certificate from September 30.
The body had announced on July 25 to ban air travel for anyone without a vaccine certificate. However, according to its latest order, a complete two-dose vaccination has been made compulsory for passengers by the end of September.
Addressing a press briefing following the meeting, Umar, who was flanked by Minister of State for National Health Services Dr Faisal Sultan, said unvaccinated school teachers and staffers won't be allowed to enter workspaces after October 15.
Teachers and students above 18, public transport and retail staff are already required to get vaccinated.
He said the centre has also made vaccination obligatory for those employed in various sectors, saying the first vaccine dose should be taken by August 31 and the second by September 30.
The NCOC also decided to prevent unvaccinated people from being able to attend hospitality venues such as hotels and restaurants and shopping malls from August 31.
It further decided to begin vaccination for people aged between 17 and 18 from September 1 though the risk of death among children verges on statistical insignificance. Immunocompromised people aged above 12 will get a "specific vaccine" at certain centres starting from September 1.
THREE MILLION PFIZER DOSES TO ARRIVE:
Meanwhile, three million doses of Pfizer vaccine will arrive from the United States under the Covid-19 Vaccines Global Access programme later this week, the Ministry of National Health Services said.
The national vaccination campaign has largely relied on Chinese vaccines, but the expatriate workers and students are required to receive European or US vaccines so they can resume their lives abroad, where many governments have not yet approved China-developed vaccines.
In June, the US signed an agreement with the drug producer to buy 500 million doses of its coronavirus vaccine to distribute to nearly 100 countries around the world, as the centrepiece of Joe Biden's initiative to help vaccinate the world against the health crisis.
The vaccines are donated through Covax, the global initiative to help developing countries face the pandemic, and going to 92 developing countries and the African Union.
The global vaccine initiative is part of Biden's broader strategy of restoring America's global influence and soft power, which he believed has been eroded by Donald Trump's four years in office and the increasingly assertive foreign policies of China and Russia.
In July, Washington sent three million doses of the Moderna vaccine in addition to an earlier batch of 2.5 million doses of the same manufacturer — both under the Covax facility.
Pakistan is due to receive 13 million doses of its Covid-19 vaccine from Pfizer, under a deal reached in June.
The government faced initial vaccination hesitancy and a shortage of vaccine supply but it started a mass vaccination campaign late last month that is now open to all adults. It has relied heavily on China for vaccine supplies.
The government faced initial vaccination hesitancy and a shortage of vaccine supply but it started a mass vaccination campaign in May that is now open to all adults.
Nearly 46 million doses of Covid-19 vaccines have been administered so far, with about 13.4 million people fully vaccinated, according to the National Command Operation Centre, which is overseeing the pandemic response.